Buying a YouTube Channel is legal and doesn't violate any of YouTube's policies, it's your account and your hard work and it's similar to selling your digital assets.
In this article, I'll give you every detail you should know about buying a YouTube Channel in 2022, how to do so and the pros as well as the cons.
New to this website? ebukaval.com publishes content on YouTube, Blogging, WordPress and how to make money online – remember to subscribe to our push notifications with your preferences.
Buying a YouTube Channel
If you don't want to go through the hassle of growing a YouTube Channel from scratch, your only option is to purchase one.
Most people prefer to purchase already monetized YouTube Channels so that they can start making money ASAP, trust me, monetized YouTube Channels ain't cheap.
Is buying YouTube Channel Legal in 2022?
It's completely legal to buy a YouTube Channel in 2022, whether it's monetized or not as it's not against YouTube's Terms and Conditions.
There was a lot of debate pertaining to the legality of purchasing a YouTube Channel, so a YouTube Creator decided to contact YouTube Support on the issue.
The Image below shows YouTube Support's take on the buying and selling of YouTube accounts.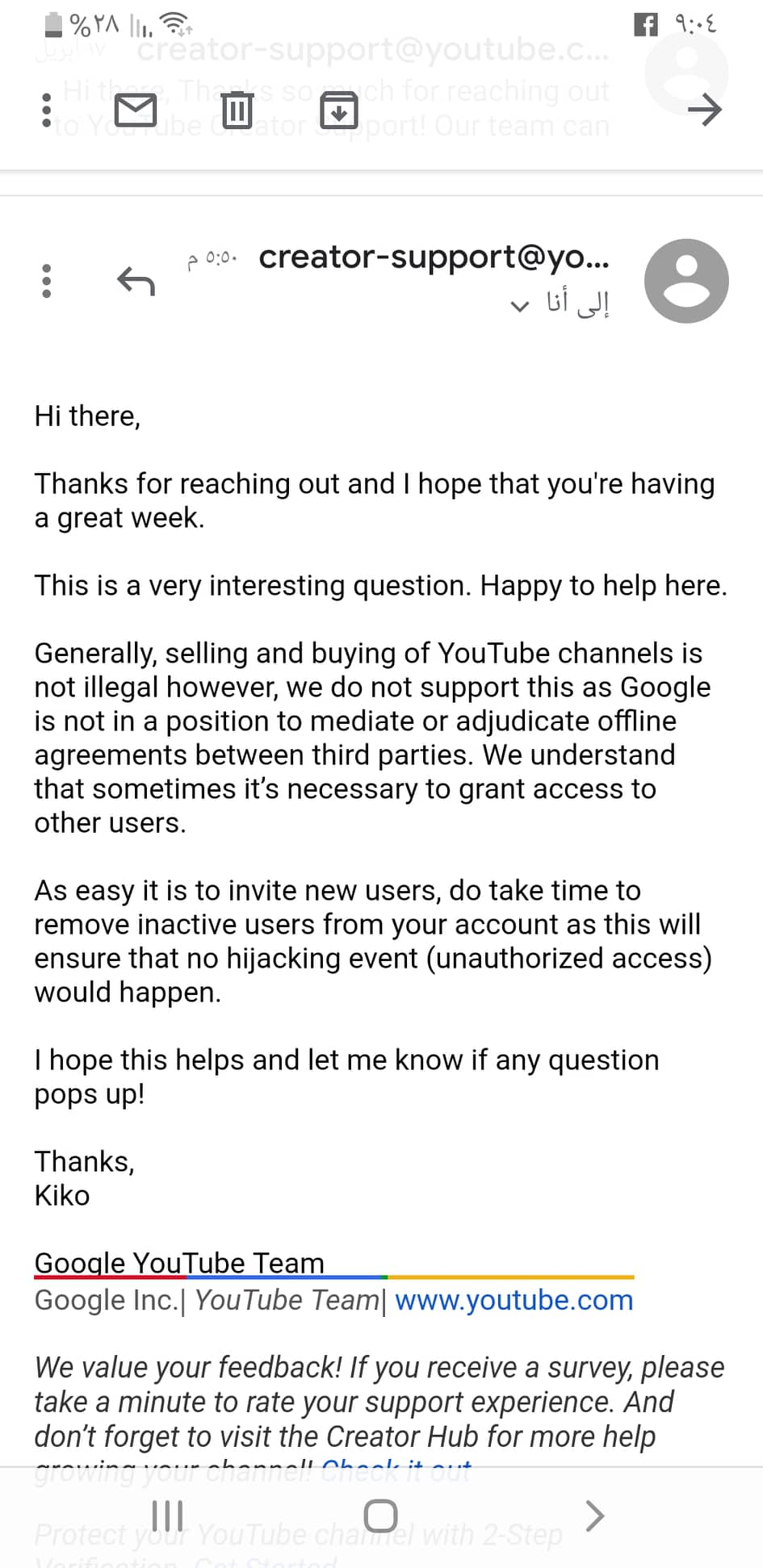 Should you buy a YouTube Channel?
While buying a Monetized YouTube Channel sounds great, I recommend you should invest that money and grow your Channel from scratch because buying a YouTube Channel can lead to monetization issues and stuff.
How to buy a YouTube Channel
Well if you're not interested in growing a YouTube Channel from scratch and you have money to spend, buying a YouTube Channel might not be such a bad idea for you.
However, I'll give you tips on how to buy a YouTube Channel to avoid scams and hijacking.
Step #1: Once you see a YouTube Channel in your Niche that you wish to buy, the first thing you should do is to determine the worth of the Channel, this helps you estimate how much you'll bid.
If you don't know how to see a YouTube Channels Earnings, here's an article on how to do so in 2022.
Let's say the channel makes $500 – $1000 per month, then your should be aiming to buy the Channel for $10,000.
I don't think any creator who earns $500 -$1000 per month would not agree to sell his YouTube Channel for $10,000. If you have $10,000 then proceed to step 2.
Step #2: Contact the Creator and present your offer, then you'll know whether he or she wishes to sell the account, if yes, then you guys can proceed.
Step #3: As a buyer, never make payments without escrow services, the best online escrow service I know is escrow.com. This will guarantee that you'll be the owner of the Channel before the creator receives payment.
Tip: If the creator doesn't know how to transfer ownership of his YouTube account, it means that he never sold an account before and he needs to read this resource.
Tip 2: Never buy from Online Marketplaces as they are often full of accounts that were hijacked and are loosing subscribers.
Conclusion on Buying a YouTube Channel in 2022
If you were looking to know everything about buying and selling YouTube Channels, then I hope this article gave you everything you need.
I'd love to know your take on 'Is buying a YouTube Channel legal?' the comments section is always open.
Scroll down to read more YouTube related content that's highly informational, you can subscribe to my newsletter.